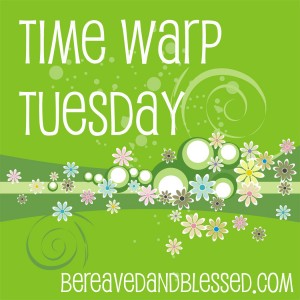 This month I am participating in Kathy Benson's
Time Warp Tuesday.
Kathy's instructions are to "Write a new blog post on which you introduce, link to, and then reflect on your journey since you wrote the older blog post..."
For this month's theme of "Fathering," I am sharing the post, (
Father's) Day
, that I wrote in June of 2009.
In the post I say:
You were meant to be a Father.

I don't know if I ever told you this, but it was you that made me want to have a family.

I have been so fortunate to receive your love, to know your kindness,and I wanted to share that- you, with a child.
There was so much pain, hopelessness, hurt and grief in my words of that post. I remember the guilt I felt every time I would see my husband, because (right or wrong) I blamed myself for being unable to bring Peyton into this world healthy. Everything after her passing felt so final. Like we were destined to live a half-life, walking this universe forever childless.
What a difference three years makes.
I took this picture the other day:
The kiddos were sick with ear infections and nasty colds, and Hubs, home not even five minutes from work, quickly threw on sneakers and brought them outside. He found a way, despite how uncomfortable, feverish, etc. they were, to make them smile.
I went back to my old post and after reading it, I just feel so grateful. Grateful for the man I married. Grateful for the father I have given all three of my children. My husband loves without judgement. He is patient, and kind, and funny and I don't honestly know how we got from there to here, because survival felt impossible so many times over during our journey, but the gratitude I feel for having this man to share my life, my heart, and my family with--is immense.
His love for Peyton is never ending. His love for our Snowflakes is ever growing. He is the father I knew he was meant to be and more. The epitome of the word: "Fathering."